I was casually scrolling through Instagram one day when I came across a post made by nature photographer Christoffer Collin, aka @wisslaren. He invited his followers to a lecture at the Apple Store in Täby. I am a huge fan of his images, so of course I signed up! A few days later I sat down on The Most Uncomfortable Barstool in the Universe. (Hey Apple Täby, if you are reading this, get comfier furniture for future lectures!)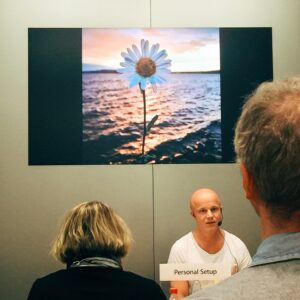 Chris told us about his journey on Instagram. What started as a hobby has now become his job. In conclusion the lecture was very inspirational, and I really admire someone who dare to quit his job and try life as a photographer. Chris was also very humble and claimed "I am no photographer", but if you take awesome photos and can make a living out of it, then of course you are a true photographer!
Here are some of Chris' tips on how to become big on Instagram: Take a lot of great images, post them often, use hashtags, be consistent. Do this and and you will be recognized. I have to start working with the "post often"…
Chris also said "If you are going to remember only one thing from this lecture, start playing Plants and Zombies 2! It is THE best game!" I don't always do as I am told, but this time i did. And yeah, the game is really addictive. Give it a go!